For me, 2014 was difficult to define. I didn't have very high expectations for the market when it came to AAA games, so I knew from the very beginning that I would be paying a lot more attention to the indie scene. Maybe the reason why there's a few AAA titles on this list is precisely because I was caught off-guard when I played them. If I could actually name all the games that I really enjoyed this year the list would probably go over 30, as it's been a year with very few disappointments. For what it's worth, here's my top 10 games of 2014. If you're a developer and you're reading this: Please keep bringing good games. I love having so many good options that I have a really hard time choosing which ones are the best of the year! You monster.
10. New 'n' Tasty: Oddworld Abe's Oddysee (Oddworld Inhabitants | July)
The original Abe's Oddysee was one of my favourite games on the first PlayStation, so when I heard that they were remaking it for the PlayStation 4, I was skeptical. I was convinced that the original game was already "as good as it could be", and that this re-make was, in fact, completely redundant. Despite these thoughts, I bought this on launch, and then realized how mistaken I was. It has all the things that made the original game good, but better. My return to Rupture Farms was as pleasant as it can get, and I ended up beating the game that same week. Oh yeah. I totally got the bad ending. You bet that I will be revisiting it soon.
9. Luftrausers (Vlambeer | March)
Luftrausers is a game that I knew that I'd enjoy. If you are a regular of GoPlayThat, you may remember the time I decided to put an end to my shame while playing this title live on our Twitch channel. If after you watch my first impressions of the game you still wonder why it is on my top 10 of this year, know that I am still playing it regularly to beat my previous high score.
8. Crawl (Powerhoof | August)
I heard very little about Crawl before I played it. It was a very pleasant surprise when I managed to try it out in optimal conditions: With four players at a GAR session. When I returned to Germany, one of the first things I did was to purchase it for myself and invite a few players over to try it out the same way I did. This is still the number 1 title to be played in local multiplayer, and the fact that this is Early Access does not mean that it's "barely playable" or "missing big features" but it is one of the examples where it seems that the developers want to say "Well, from this it can only get better, folks".
7. Freedom Wars (Sony Computer Entertainment - Japan Studio | October)
I sort of heard about Freedom Wars when I was checking out the Gamescom this year. I remember that I thought that the concept of having a sentence of 1 million years that you would have to reduce by completing assignments was a neat idea, and then quickly forgot about the game completely. When it was released, a couple of friends of mine told me that this game was actually really good, and that I should grab it. They knew that I adore challenging games like Monster Hunter and pushed me towards it. With that in mind, I decided to break my rule of doing extensive research before buying a AAA game, and went ahead with it. They were right all along! The game was quite under the radar in general, and if you hear someone say that the PlayStation Vita is not getting enough love, go slap them and tell them that I demand they at least try Freedom Wars. It may not be a game for everyone, but it deserves a try at the very least.
6. Enemy Mind (Schell Games | June)
Another one of my Twitch discoveries this year, Enemy Mind does what a lot of other games in the side-scrolling genre don't. It's the only game since R-Type 2 that while I was playing through it, I felt the sense of discovering how the game works. Not only is the possession mechanic fantastic, but how the lore and the story unfolds depending on which ships you possess and the time you spend with them is genius. If you don't have this game and have the least bit of interest in 2D space sidescrollers, Enemy Mind will do a lot more than entertain you.
Plus, you get to be an asteroid. 10/10.
5. The Binding of Isaac: Rebirth (Nicalis | November)
Here's the plot twist: I really expected this game to be higher on this list. Not because I didn't like it, or because of the hype I had about the game (I racked up quite a few hours on the original The Binding of Isaac). The game delivered in every single way that I could have expected. It was just as I wished for it except for the music (I really miss DannyB's music!), and it was free on PS4 and Vita for PS+ subscribers! Hell I even helped create a BoI:R Death Roulette for Twitch streamers with another guy!
There is actually very few bad things I can say about this game, really. The only reason it is at number 5 is because the other four blew me away. Here they come!
4. Child of Light (Ubisoft | April)
Every minute I play this game it makes me just feel happier. Which is probably a bad thing, because the story is pretty sad. The art style, the music, the beautiful dialogue, the fact that they always speak in rhymes, I just find it so charming. I am a big fan of JRPGs myself, and this game seems to be doing it right when it comes to cooperative JRPGs (I'm looking at you, Final Fantasy IX!). This game is a delight to play. Nay, this game is a delight to experience. If you haven't played it yet, you should. There is a variety of platforms where you can get it, and it is brilliant on every single one of them.
3. Mario Kart 8 (Nintendo | May)
Here's another surprise: I wasn't originally going to buy this game.
I mean it! I knew that it was going to be good, but from what I had seen on previous Nintendo Direct presentations (which by the way, everyone should watch) and reviews, I just thought that this game didn't have enough novelty to offer me. When I finally bit the bullet, I realized what a big mistake I would have made if I had let this one slip. It may seem that there are not enough new things to offer, but all that is new is simply fantastic. All tracks are beautifully designed, the soundtrack is super fun to listen to, and the anti-gravity racing is fabulous. Every little detail in Mario Kart 8 is what makes it so special. Sometimes I found myself just stopping on the Electrodome track just to watch the piranha plants dance to the music. It's delightful, really. Sometimes we still hold GoPlayThat tournaments online live on Twitch!
2. Super Smash Bros. for 3DS and Wii U (Nintendo | October-November)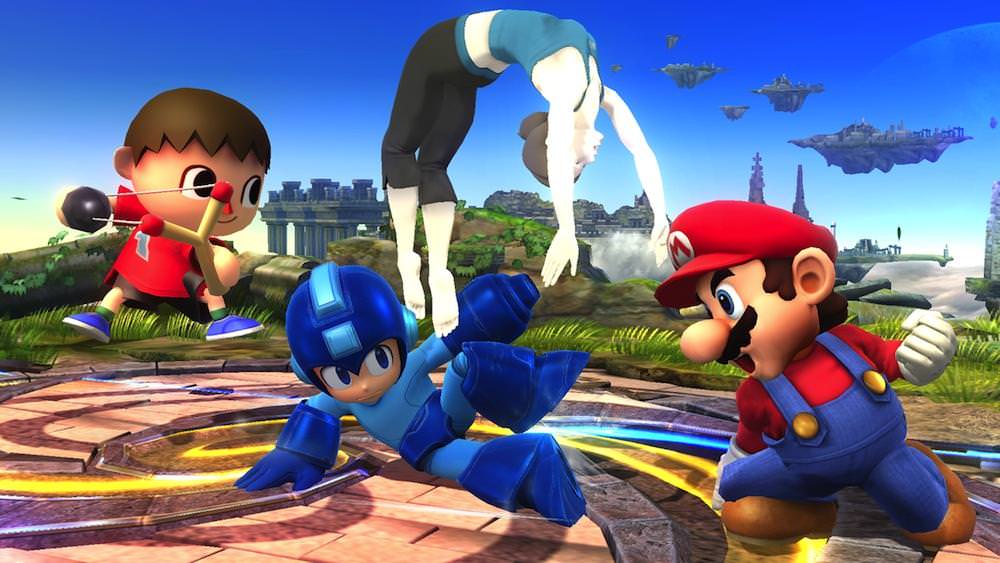 Yes, you all knew this was coming. I don't really feel ashamed of saying that Super Smash Bros. on any generation or platform is one of my favourite games of all time. Every time a new Super Smash Bros. game comes out, it becomes my #1 game to play when I don't know what to play. With friends, alone, it doesn't matter. Super Smash Bros. never fails to entertain me.
With the inclusion of the working online mode (Brawl *groan*), I realized that my skills are far from perfect. Hell, I'm far from being even decent, but even getting my ass kicked over and over is fun. I play this very regularly (*cough* every Tuesday and Thursday at 19:00 on my Twitch channel *cough*). The cast of characters keeps getting better and better, and the amount of "clone" fighters shrinks smaller and smaller. The variety of game modes will keep me busy with this game for a long time, so yeah.. see you in 2017.
1. Crypt of the NecroDancer (Brace Yourself Games | July)
When I first played this game, I knew that I had to talk about it. I had to share my impressions. I had to reach as many people as possible about game so bad that we even created the "State of Play" section on GoPlayThat to start talking about Early Access games. Just because of this game.
I'm not going to say again what I already said in that article. What I will say, is that ever since I wrote it, the game has grown a lot in content, without losing any of its quality. If you have a rule of never buying games that are on Early Access as I did, for the love of all you cherish, make an exception for this one.
You can follow us on Twitter, Facebook, Twitch, and YouTube.